What is Microsoft Entra ID?
This post is just for the sake of completeness about my blog post series dealing with the Microsoft Entra product family.
Microsoft Entra ID is just a new name for Azure AD and there are no changes to any Azure AD capabilities.
Source: https://techcommunity.microsoft.com/t5/microsoft-entra-azure-ad-blog/azure-ad-is-becoming-microsoft-entra-id/ba-p/2520436
Microsoft Entra ID is a cloud-based identity and access management service (IAM). Microsoft Entra ID enables your employees access external resources, such as Microsoft 365, the Azure portal, and thousands of other SaaS applications. Microsoft Entra ID also helps them access internal resources like apps on your corporate intranet, and any cloud apps developed for your own organization. To learn how to create a tenant, see Quickstart: Create a new tenant in Microsoft Entra ID.
To learn the differences between Active Directory and Microsoft Entra ID, see Compare Active Directory to Microsoft Entra ID. You can also refer Microsoft Cloud for Enterprise Architects Series posters to better understand the core identity services in Azure like Microsoft Entra ID and Microsoft-365.
Source: https://learn.microsoft.com/en-us/azure/active-directory/fundamentals/whatis
New name for Azure Active Directory
https://learn.microsoft.com/en-us/azure/active-directory/fundamentals/new-name
Here you can see the new Microsoft Entra ID blade within the Microsoft Entra admin center.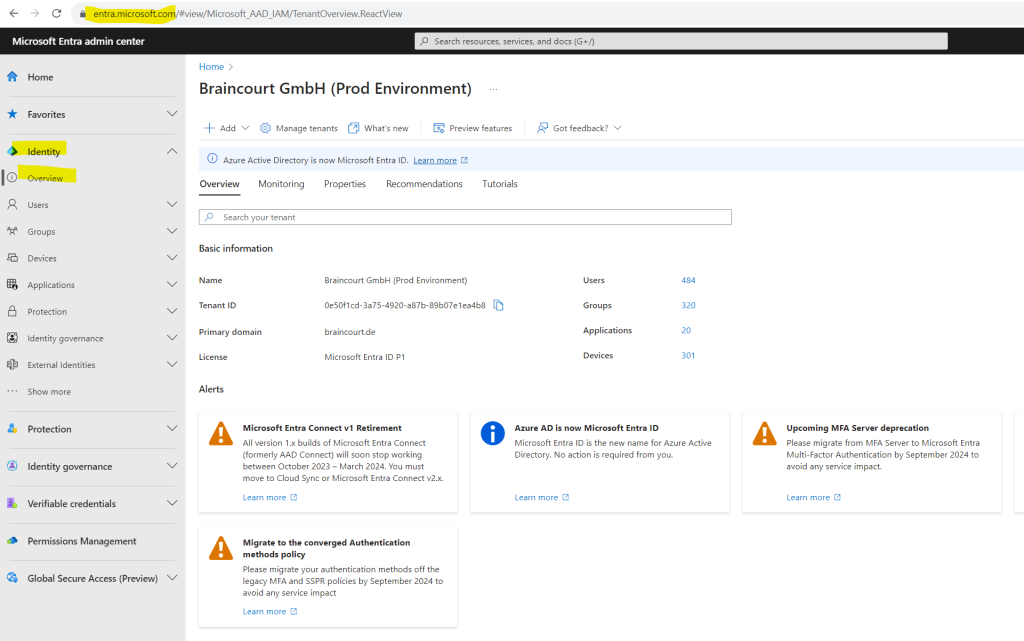 Licences
Microsoft Entra ID Free. Provides user and group management, on-premises directory synchronization, basic reports, self-service password change for cloud users, and single sign-on across Azure, Microsoft 365, and many popular SaaS apps.
Microsoft Entra ID P1. In addition to the Free features, P1 also lets your hybrid users access both on-premises and cloud resources. It also supports advanced administration, such as dynamic groups, self-service group management, Microsoft Identity Manager, and cloud write-back capabilities, which allow self-service password reset for your on-premises users.
Microsoft Entra ID P2. In addition to the Free and P1 features, P2 also offers Microsoft Entra ID Protection to help provide risk-based Conditional Access to your apps and critical company data and Privileged Identity Management to help discover, restrict, and monitor administrators and their access to resources and to provide just-in-time access when needed.
"Pay as you go" feature licenses. You can also get licenses for features such as, Microsoft Entra Business-to-Customer (B2C). B2C can help you provide identity and access management solutions for your customer-facing apps. For more information, see Azure Active Directory B2C documentation.
Source: https://learn.microsoft.com/en-us/azure/active-directory/governance/licensing-fundamentals
What is Microsoft Entra?
To see all products included in the unifying brand named Microsoft Entra please take a look at my following post.
Links
What is Microsoft Entra ID?
https://learn.microsoft.com/en-us/azure/active-directory/fundamentals/whatis

Azure AD is becoming Microsoft Entra ID
https://techcommunity.microsoft.com/t5/microsoft-entra-azure-ad-blog/azure-ad-is-becoming-microsoft-entra-id/ba-p/2520436

Microsoft Entra (Azure AD) Blog
https://techcommunity.microsoft.com/t5/microsoft-entra-azure-ad-blog/bg-p/Identity